When you go to the mall you are going to run into all different shops, people, food and services. Some of these services might be great, it could be the perfect place to get your hair done or your acrylics filled. The mall is the one-stop-shop for all of your needs, but if you are thinking about adding a piercing to your body the last place to do it is in the middle of a mall hallway in a kiosk. Let's get down to the dirty details and talk about why these places are unhygienic and what you should be looking for when getting pierced!
#1. How many times has someone sat in the same chair as you, before being cleaned?
Let's face it, cleanliness is important when it comes to getting pierced. Actually, it is one of the most important factors you should take into account when choosing a piercer. To avoid infection, you want to look for a sterile area that is being cleaned with proper sanitary tools. According to the Association of Professional Piercers, you will want to look for a piercer who is current on their Blood-borne Pathogens training and has the certificate to show for it! The piercer should have an autoclave to help sterilize tools and jewelry. To meet the standards of the APP, all autoclaves should be medical grade, with a dry cycle, and meet all FDA standards. Here's the thing about getting pierced at a mall kiosk… They don't have the tools to adequately clean with. Your chair, piercing tool, and other materials are cleaned by small rubbing alcohol prep pads. See the difference? Oh, there is also a good chance that your kiosk employee has not gone through the proper training.
#2. How many piercings has the piercer done and have they undergone a full apprenticeship?
Piercing is an art form that involves much more than putting a piercing gun up to someone's ear. Piercers have a vast education in Human Anatomy and Physiology, have attended and understand CPR/First aid, and have attended a Bloodborne Pathogens training class. A Piercer spend a minimum of three months as a full-time apprentice learning how to sterilize, disinfect, and combat other important health and safety issues before piercing. A mall or kiosk employee spends one-week training. This includes training videos that teach employees how to insert a cartridge into a piercing gun and make sure it doesn't get stuck in someone's ear – but we have all heard those horror stories! One week of training from a corporate employee with no background in piercing is much different than being pierced by a professional who has had a year's worth of training and supervision. You're likely to walk away with a crooked piercing that may end up giving you some trouble healing.
#3. The ever so accurate piercing gun… or not!
Piercing guns are a giant NO regarding body piercings, and yes this includes earlobes! Piercing guns have been used for years because of how user friendly they are. These tools can do hundreds of piercings a day with little to no clean-up. They are literally money-making machines. But we are going to let you in on a secret… Piercing guns don't pierce with a needle; they pierce with a dull earring. Let's think about this for a minute. Imagine you have a rubber balloon, a piercing earring, and a hollow needle. When you try to force the earring through the rubber balloon it is going to stretch until it tears. The balloon will have a hole from the trauma of the earring stretching it to its capacity. Now, think about the hollow needle. The hollow needle is put up to the rubber balloon and it pierces through the rubber with no force or trauma. This is because a needle creates a clean hole that the earring is inserted into. Big difference, right? Getting pierced with a needle might seem scary, but most people say that it hurts less than being pierced with a gun!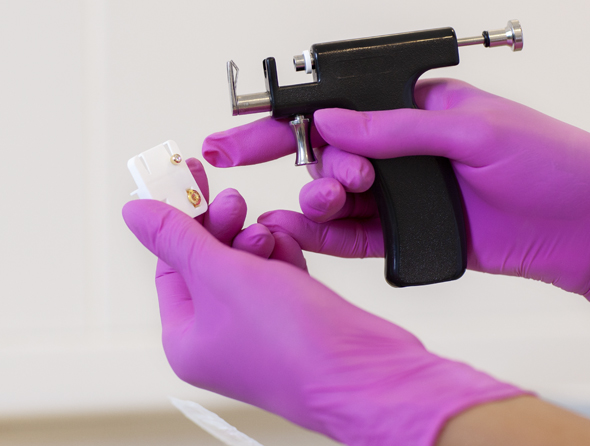 #4 The Piercing gun has been used and stored in the same place over and over again…
Most mall kiosks' claim that their piercing tools are "medical devices" that are comprised of a machine that has an insert of a single-use cartridge with a stud and clasp earring. The packaging for the jewelry and the part that touches the ear is supposed to follow the standards required in the medical device industry, but there is still the problem of the machine itself. The same machine is used on everyone and it is cleaned with rubbing alcohol between uses. This machine is touching the hands of multiple people and all different faces! These machines are typically made out of plastic or metal, meaning that are unable to be properly sterilized in an autoclave. There is always the risk of disease transmission when you pierce with equipment that has not been properly handled or cleaned.
#5. Healing, that's going to be a pain, literally!
The piercing gun uses a butterfly back or bullet earring back, these are not optimal for healing or cleaning. The bullet Earring back lock in moisture when being cleaned and it accumulates water from the shower. The butterfly back is similar, because it has little holes and crevices where bacteria can become trapped from moisture or natural secretions. Not to mention, earrings are not one size fits all! What happens if you have a small lobe? Your ear needs to accommodate for swelling, but it doesn't need a post that will get snagged on something and potentially rip at your ear.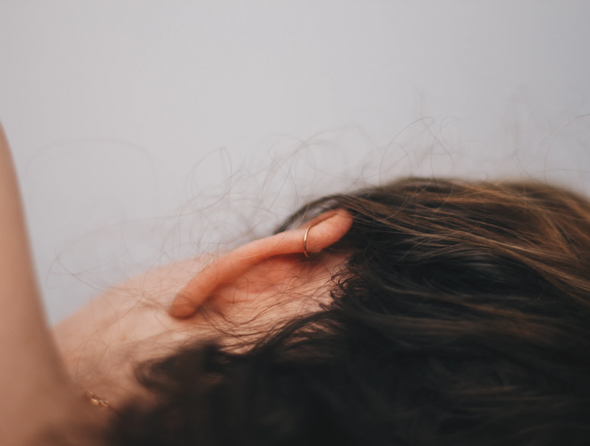 At the end of the day, skip the piercing at the mall and go find a reputable piercer! You will be happier and healthier when working with a reputable piercer who has the proper equipment and training.