New piercings don't happen every day, especially since there is a lot of work that goes into creating a viable and safe body piercing. Recently a Pinterest trend has been blowing through the Piercing Industry, but is this new trend safe?
Snake Eye Tongue piercings. This is a piercing where the tip of the tongue is pierced with a curved barbell. The ball ends give the appearance of eyes, making it look as though your tongue is a snake. This is a tricky piercing for several reasons, and this is why you should stray far away from it!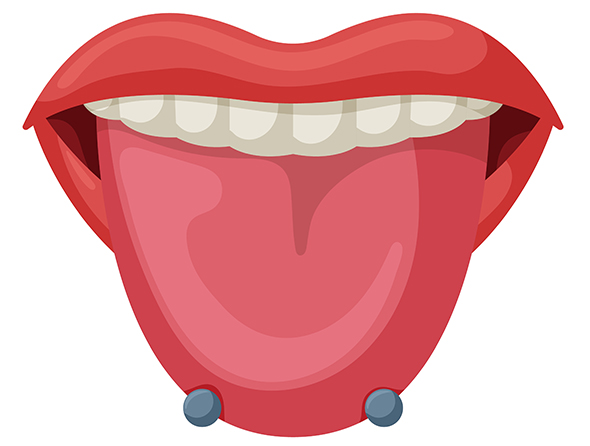 This is a piercing that is incredibly difficult to heal, and it is prone to rejection. It is almost impossible to place this piercing correctly, as it is going horizontally through the tip of the tongue. It is not like a normal tongue piercing, and it is not going to heal like one. It can take between 4 to 8 weeks for the swelling to decrease and another 8 weeks for it to fully heal. Not to mention, if it rejects it's going to leave on gnarly looking scar.
There is a huge risk for dental problems, more than any other oral piercing. The jewelry sits on the back of the bottom teeth. After a while, the gums will start to erode and there is a good chance that the jewelry will get caught on your teeth while talking. This can cause damage to the tooth's enamel and it can break or chip your teeth.
In addition to just being a bad idea, it has unknown long-term risks. When the tongue is pierced horizontally it is pinning two independent muscles together, preventing proper movement. This can make it difficult to talk and it can damage the structure of the tongue.
There is some good news though! You can have your tongue pierced traditionally to create similar looks. After meeting with a reputable piercer, they can determine if you have the anatomy for a double tongue piercing.
A double tongue piercing is two separate piercings on the tongue. The two piercings are done vertically on each side of the tongue. It is going to be much different than the snake eye piercing, but it will still give the appearance of a horizontal tongue piercing. You can create a similar effect by doing two (or three if antimony allows) in a straight line down the tongue.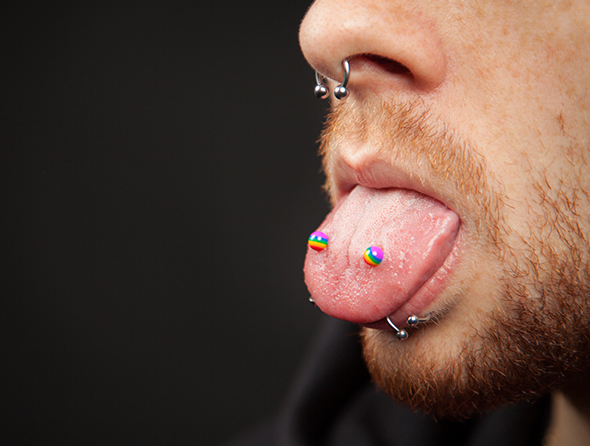 Getting a vertical tongue piercing is fairly easy when done by a reputable body piercing professional. You can expect to wash your mouth out with antibacterial mouthwash to clean the area and your piercer will inspect your tongue and mark the correct place for your piercings. After your tongue is marked your piercer will use a clamp to keep your tongue still and pierce the designated area. Your piercer will insert jewelry long enough to allow for swelling and you will be good to go!
After a tongue piercing it is normal to experience swelling and some localized pain, especially if you are having your tongue pierced twice in one session. This may cause some difficulty speaking or eating, but the swelling will go down! You still run the risk of gum and tooth erosion, but nothing like the risk of snake eyes.
Plus, the aftercare with this piercing is simpler than you may think. The Association of Professional Piercers recommends that during the 4-6-week healing process you stay away from smoking, alcohol, spicy foods, and hot beverages. Rinse your mouth out with alcohol-free antiseptic mouth was during the day and try not to play with the piercing! Like any piercing, the better you take care of it the easier the healing process.
Getting your tongue pierced is a fun way to express yourself without having your piercing out in the open. Body modification is an amazing form of self-expression and it is a unique statement that you are putting forward to the world. When done by a reputable piercer you have a fun and discreet way to show your wild side. Think about all the ways you and gems you can adjourn your new piercing with?!