As piercing has become more and more accepted throughout society, we are seeing an uprise in "do it yourself" and "gun" piercings. There is nothing better than an angsty teenager with a crooked piercing and cheap jewelry performing your first piercing, right? What most people don't know is how much work that goes into becoming a piercer! Piercing is an art form and a type of body modification. Treat yourself and show yourself self-care by getting pierced by a qualified professional.
To perform a successful piercing, a piercer needs a lot of experience and time to learn human anatomy. A reputable piercer has gone through a hands-on educational experience working with a skilled professional in the industry. When looking for a good piercer here are some questions you want to ask:
How long have you been piercing, and what do you do to keep your knowledge base current?
Do you have photographs of freshly pierced (the type of piercing you want) and pictures that show how the piercing healed?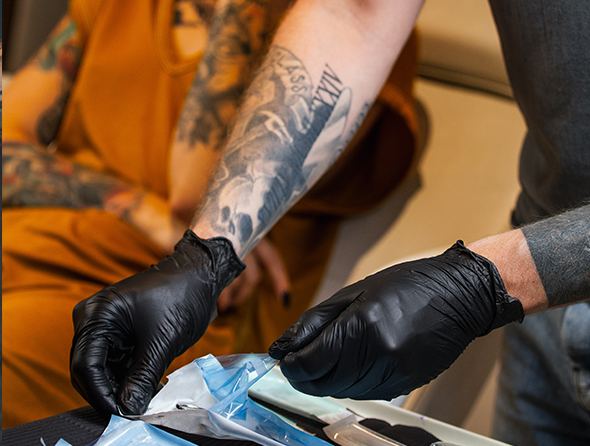 Don't be afraid to start a dialogue with your piercer! Most reputable piercers are ready and willing to have an open and honest conversation about their education, jewelry material, and safety concerns surrounding the piercing process. Helpful hint: always go with your gut! If you are inquiring about a piercing and the piercer gives you the run-around or fails to provide you with basic answers to your questions, you may want to continue to look at other piercers. Trust your intuition, if you feel like a situation is wrong, it probably is.
Piercers are happy to show off their portfolio! Their portfolio will contain fresh piercings as well as healed piercings. When looking at the portfolio you will want to see if the piercings match the individual, do they look properly placed? Are they clean, does the jewelry look like it is high quality? Many piercers will even have the name of the jewelry and where they got it listed on their photos. This is a great way for you to check if they are using high quality jewelry.
Infection, Rejection and Improperly Placed Piercings!
(Disclaimer: If you feel that you have been improperly pierced or have any type of infection/signs of rejection please seek a medical professional. This is not meant to assess or diagnosis).
Have you ever had a piercing that got a "keloid" or a piercing that just wouldn't heal?
Difficulty healing or irritation bumps can happen for a number of reasons. The biggest reason for unsuccessful healing is incorrect placement and less then favorable jewelry. A successful piercer is extremely familiar with human anatomy and what jewelry works best with your anatomy. They will provide you with a full consultation before your piercing. According to the Association of Professional Piercers, a reputable piercer should have accessible jewelry options in a variety of sizes, jewelry should be smooth, free of nicks, scratches and burrs and should be internally threaded or threadless jewelry.

Updated Aftercare Instructions
There are so many myths and mysteries about after care, many tips and tricks can be harmful to a healing piercing. A reputable piercer is going to provide you with accurate after care AND they will be there for you through your healing process! A good piercer will explain the aftercare instructions verbally and provide them in writing as well. Piercers are happy to answer questions and will help you if you are running into any trouble with your piercings! If a piercer is advising you to care for a fresh piercing with soap, ointment, alcohol or other harsh chemicals they are not keeping up with industry standards. Piercings should be cleaned with sterile saline.
A Clean Environment!
A clean studio has different zones to keep the studio clean and comfortable. All piercing studios should have an autoclave that sterilizes jewelry and equipment by eliminating germs and spores. A reputable shop will be able to provide you with a spore test that is performed on their autoclave. Studios will also have a license that shows that they are operating within the requirements of the city/state.
Don't fall for the trick of a low price piercing! A piercing is a body modification and (in most cases) you will get what you pay for. Make sure you are treating your body like the temple it is!