The minimalist ear tattoo trend is hot, and it is the most adorable way to style your ear with both a tattoo and piercing. Many people love the idea of getting a tattoo, but they struggle with the size. An Ear tattoo can be so small and subtle that some people won't even notice. Or, you can create a bold statement piece that shows off the side of your face and accentuates your natural features.
A Helix tattoo is a small tattoo that curves around the edge of the helix and up. Helix tattoos work with the ear's anatomy, and they can be both delicate or bold with the right amount of shading. The cool thing about helix tattoos is that they don't go out of style. They are adaptable, and a good design can look both ancestral and futuristic. A cute design on the outside of your helix is sexy, and it gives you an edge.
Healing a Helix tattoo is relatively easy, and most people only notice some discomfort in the first few days. Keeping the tattoo clean and lubricated will help any discomfort or itchiness.
The Helix tattoo can replace a piercing or accentuate one. If you are thinking of getting a helix tattoo to replace the look of a piercing, you are going to have a significantly faster healing time. But, adding a piercing to an already healed helix piercing is really going to set you apart! The finest detail can be performed on the ear and adding a piercing will create an ornate look.
View this post on Instagram
When picking your tattoo design, think about what piercing would fit with the tattoo you are having designed. Are you going to put a dainty flower on your helix's flat and add an internally threaded or threadless CZ jewel top that can be pierced through the center of the flower? Maybe you want to create the full look of the constipation piercing. Placing a tattoo with moons, stars, and planets on or around multiple small piercings that are referred to as constellations.
View this post on Instagram
Every design is unique, and it is a fun way to show off your creativity and artistic vision. Check out your tattoo artist's portfolio and see if they have experience with fine line work. It takes a lot of artistry to get the perfect design on such a small canvas.
Should You Get a Tattoo or Piercing First?
When thinking about getting both a tattoo and piercing, you are making a significant commitment to a gorgeous ear project. The first step is a consultation with both your tattoo artist and piercer. Talk to your piercer about precisely what you want, and they will be able to work with your anatomy to help you and your artist understand where the tattoo needs to be placed to line up with the anatomy of the ear. A lot goes into a cartilage piercing, and they can be tricky to heal if they are not pierced at the right angle.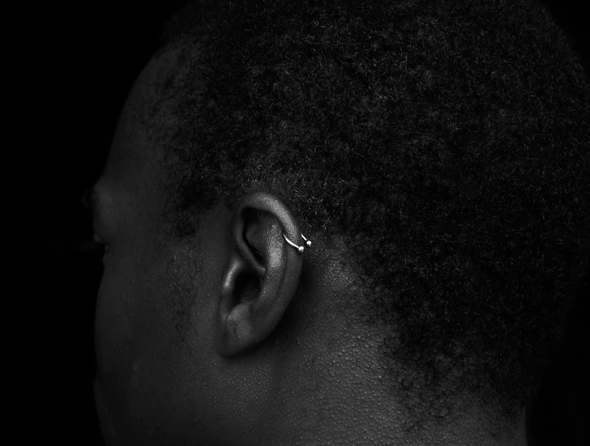 You can get tattooed before being pierced (if you don't want to line up the piercing specifically in the design). After your tattoo has healed, you can get pierced anytime. Your piercings can be placed around the tattoo to make sure the tattoo stands out.
Getting both a tattoo and a piercing is a lot, but these tattoos are small, and the piercings are simple. This can make them easy to cover up if you need too. A simple sweep of the hair will cover the outside helix tattoo as well as the piercing itself. Who knew that a hairstyle could be so useful?
Now, you may be thinking that this is a complicated project. In reality, it is super easy and worth every minute of planning and healing time. Piercing and tattoos are the perfect way to make your cartilage stand out. What design would you have tattooed on your ear?!